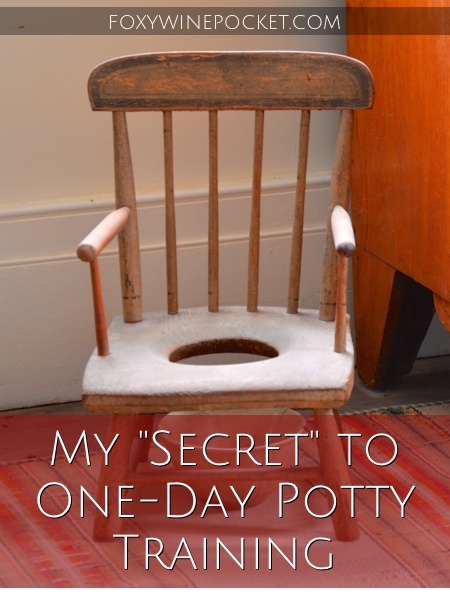 When my daughter was approaching age two, everyone (read: my mother and mother-in-law) kept telling me that it was time to get her out of diapers and start teaching her to use the toilet. They gave me all sorts of "helpful" advice on potty training and (probably) silently judged me for not initiating the process sooner.
The problem was my daughter wasn't even remotely interested in using the toilet (other than as a swimming pool for her dolls) so I left the issue alone, because lazy thinking "She's Ready When She's Ready."
As she approached two and a half, the peer pressure started (from my peers, not hers). Smug bitches Well-intentioned moms would inquire about my daughter's potty-training status and (probably) silently judged me for not initiating the process sooner.
My daughter was still not interested in the toilet. At that point, however, I started to think that maybe I was behind (pun intended, always), and so I researched and purchased all of the necessary (read: over-priced and absolutely unnecessary) supplies:
I nonchalantly placed the potty chairs around the house and made a point of reading her potty book every day. All casual-like. I put her stuffed animals and dolls on the potty chairs. We sang potty songs. We had potty picnics.
She could not have cared less.
With preschool looming, I started to worry a little. She HAD to be out of diapers by preschool or I would miss out on quiet time they wouldn't let her in. And she would miss out on a year of valuable education.
I resolved to work harder on the potty training.  I liked the idea of positive reinforcement so I designed an elaborate sticker chart so my daughter could earn stickers each time she sat on the toilet. Honestly, she was still not interested, but she was an easy-going kid (and she liked stickers). She'd sit on the potty to humor me (and collect stickers).
But she didn't want to use the toilet. I started to get really nervous. Because everyone (read: my MIL, mother, and close friends) was telling me to panic and were not-so-silently judging me.
So I panicked.
I compromised my decor convictions and purchased a horribly-ugly, cartoon-themed, cushioned potty seat
to make the bathroom more fun. I bought candy and pretty panties and other toys to use as bribes. And we really started to put the pressure on. But guess what? It didn't work. Our efforts backfired, and my daughter, who was completely uninterested in all things toilet-related, started hating that pressure … and the toilet.
Eventually too much pressure lead to holding it in. Which lead to constipation. Which lead to Miralax. Which lead to The Great Jackson Pollock Poop Explosion of 2006. (I'm saving that story for another day.)
Eventually, she finally did learn to use the toilet. But the road to the throne was paved with millions of unnecessary tears and anxiety. And that was just from me.
So when my son was born, I vowed not to repeat the same mistakes. I vowed to wait until he was ready and not to force him to use the toilet. And to tell all the naysayers that they could naysay all they wanted.
I dutifully changed his diapers. When he turned two, I casually gauged his interest in the toilet (non-existent). So I kept my mouth shut.
Then he turned two and a half and still had no interest in the toilet. I continued to change his diapers. And only occasionally asked him about his friends who might be using the potty.
Then he turned three and still had no interest in the toilet. I continued to change his diapers. And every once in a while mentioned how his best friend started using the potty after he turned three.
Then he turned three and a half and, you guessed it, had no interest in the toilet. But I STILL continued to change his diapers. And only casually mentioned to him that he was big enough to sit on the potty if he wanted to try.
I was being so patient. But dammit if those diapers weren't getting expensive. And those poops man-sized.
Finally, the day before his fourth birthday, I had a flash of brilliance. I told my very logical and compliant child, "Son, there's a rule. See, four-year-olds aren't allowed to wear diapers during the day. Tomorrow you're going to be four. So, no more diapers during the day.
The very next day he used the toilet with not so much as a peep. And never looked back.
Why the hell didn't I think of that sooner?
*I found this product, unused and still in it's original packaging, about two years ago when cleaning out the coat closet. It would have been more efficient to flush that money down the toilet.
Photo Credit: Potty Training Chair by Joe Shlabotnik is licensed under CC BY-NC-SA 2.0. Cropped and added title graphic overlay.
Follow Foxy Wine Pocket on Facebook and Twitter. You can also subscribe to my blog and never miss a new post. It's quick and easy! (That's what she said.)