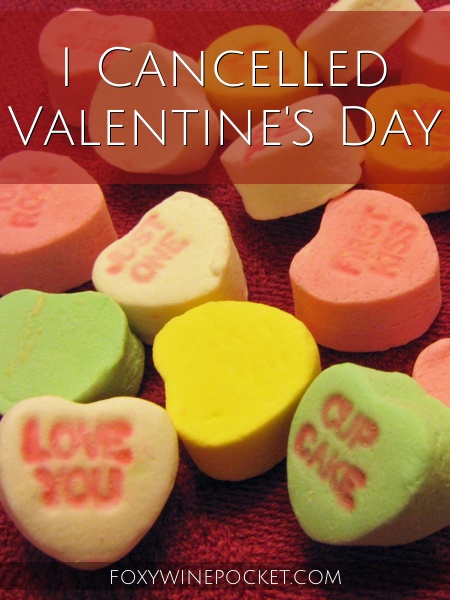 We don't celebrate Valentine's Day in our house. I cancelled it years ago. (I'm a fan of cancelling things.)
I'm just not a big believer in the overly-commercialized holiday. And it really doesn't help that Valentine's Day is within the same three-week timeframe as my son's birthday, my husband's birthday, and our wedding anniversary (piss-poor planning on my part).
It gets exhausting buying shit for other people.
But honestly, I've never been a fan of Valentine's Day. It was never a big holiday in my family growing up. I can't think of even one thing that we ever did to celebrate it. (Or maybe I've just blocked that out.) Then, in junior high, when you could send a heart-shaped card to someone for 25¢ or a carnation for $1, Valentine's Day became a popularity contest of who received the most cards and carnations. (Spoiler alert: I was not a winner.)
All through high school and into college, I worked at a flower shop. For weeks prior to Valentine's Day, I prepared for the ridiculous holiday. I made 10 million lace bows. (Did I mention that I hate lace too? Much to Mr. Foxy's chagrin). I cleaned about 50 million roses. (My hands were green and riddled with cuts for the next week.) And, on Valentine's Day itself, I had to deal with rude, last-minute customers who all wanted a $100 bouquet delivered across town in the next 10 minutes. But they only wanted to pay $20.
Bitches.
After working with flowers for so many years, I don't even like them anymore. Actually, that's not true. I love beautiful flowers. I hate cheap flowers. But I can't justify spending a fortune on flowers when they are just going to die within a week. (Never mind that I'd spend that same amount of money on a bottle of wine that will die within a few hours. JUST NEVER YOU MIND.)
Also, I don't eat chocolate, another traditional Valentine's Day gift. Actually, I don't eat much in the way of sweets. (DON'T LEAVE! HEAR ME OUT!) Part of it is my anosmia—I can't taste very many desserts or candy. Part of it is when I eat sweets and drink wine, I gain five pounds instantly. INSTANTLY. And in the knock-down-drag-out-fight between sweets and wine, wine will always come out the winner. ALWAYS.
To add to all of this, I am not exactly a sappy, romantic person. I hate stuffed animals, stupid flowery greeting cards, and frilly shit. I am far more likely to armpit-fart out a love song than to write one for my husband. In fact, one time at a romantic dinner together, Mr. Foxy was telling me how much he loved me and how our marriage and family make his life complete. I paused and pressed my lips together trying not to blow air out of my mouth. Finally, I replied, "I love you too, but I had to burp first."
Awwwww, true love.
While my husband is definitely the romantic type, I'm sure somewhere in there (deep down), he's relieved to not have the pressure of Valentine's Day gift giving. Although he might appreciate some sort of acknowledgement of the day. (Or just sex.) Whatever.
After the kids were born, however, I felt a slight twinge of guilt over my dislike of what could be a fun holiday for them. So we turned February 14th into Family Love Day. Inspiration came from sleep deprivation, copious amounts of wine, and a Blue's Clues episode that celebrated Love Day.
Regardless, a tradition was born. On Family Love Day, we give the kids small gifts (usually journals and chocolate), and we all go out for dinner to celebrate love and our family. Now THAT is a holiday I can support.
So Happy Family Love Day to all of you!
Photo Credit: "Candies for Everyone!" by terren in Virginia is licensed under CC BY 2.0. Cropped and added title graphic overlay.
Follow Foxy Wine Pocket on Facebook and Twitter. You can also subscribe to my blog and never miss a new post. It's quick and easy! (That's what she said.)