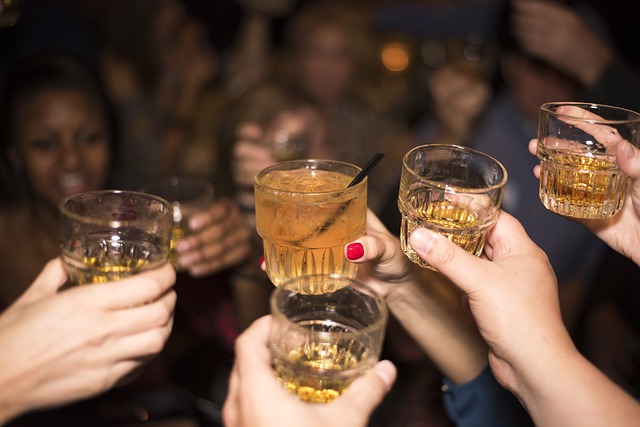 Recently, a friend of mine got sick after drinking too much alcohol during our Moms' Night Away. She was mortified and extremely apologetic. As I held her hair back, I told her over and over not to worry about it and that the experience really just made us closer: LIKETHIS. I also told her that we've all been there. Whether alcohol has made you sick or has made you do something really stupid, we really have all been there. (And if you haven't, why are you even here? No, I'm kidding. Please stay.)
Anyhow, in that spirit, I will share some of my most embarrassing stories related to alcohol.
He Should Have Read the Warning Label: When Mr. Foxy and I were still dating, I challenged him to a drinking contest. He's got a good 9 inches and 75 pounds on me, but 21-year-old Foxy thought this was a good idea. It turns out that it wasn't. I lost the contest. And the contents of my stomach. (He married me anyways. Fool.)
I Need to Learn to Keep My Mouth Shut: At my 20-year reunion (it goes without saying that I was drinking, right?), I was talking with a dear friend whom I hadn't seen in many years. She always looks fabulous, but that night she appeared to be on the unhealthy side of skinny. Everyone was thinking it, but apparently I was the only one rude (uninhibited? drunk?) enough to say anything. At one point in our conversation, I told her that she needed to eat a sandwich. Or 5. Honestly, you can't take me anywhere.
Decking the Halls (and Grandma's Toilet): About 15 years ago when the Atkins low-carb diet was all the rage, I had been furiously trying to lose weight prior to the holidays using that plan. Of course during our gathering at my Grandma's house, I inhaled every carbohydrate available. (It doesn't count at Christmas, right?) Also, unbeknownst to me, my sister and cousin were spiking my drinks. Needless to say, I got quite sick. Fortunately I made it to the bathroom. That time…
Did This Carpet Come With Pink Polka Dots?: This is probably one of my finest moments. (And probably still makes Mr. Foxy fume.) It was my daughter's 4th birthday. The grandparents were in town, and the two grandmas were tag-teaming me with"helpful" comments and unsolicited advice. In an effort to not say anything I would later regret, I took a sip of wine each time they made a rude unwelcome remark. It's possible I drank close to two bottles of wine that night. (Don't ever do that—very stupid.) I went upstairs to bed, but quickly realized I was going to be sick. I pleaded with Mr. Foxy, "Help me!" as I ran to our bathroom. I put my hand over my mouth to try and stop the inevitable projectile. (Don't ever do that—very stupid.) Only I created a puke diffuser. Red wine vomit flew in ALL directions—on the walls, the cabinets, the counters, the bathtub, and the light beige carpet. I did this ALLLLLLL the way to the toilet. While I was puking my guts out, Mr. Foxy washed down the walls and steam-cleaned the carpets. At 2 in the morning. (Yeah, he must really love me. Fool.)
Over the past two decades, I have learned a few lessons and set a few limits. I haven't been sick from alcohol since the Do-It-Yourself-Carpet-Decorating Incident. And I honestly try to keep my mouth shut to prevent snarky remarks from coming out. However, I did recently engage in a drunken midnight wrestling match with one of my freighbors (friends + neighbors). She kicked my ass. Repeatedly. But that was just good, clean entertainment for the rest of my freighbors so I'm going to file that one in the #winning bucket. (And never again challenge her to a rematch. Ever.)
Now it's your turn. What's your worst alcohol-related offense?
Follow Foxy Wine Pocket on Facebook and Twitter. You can also subscribe to my blog and never miss a new post. It's quick and easy! (That's what she said.)