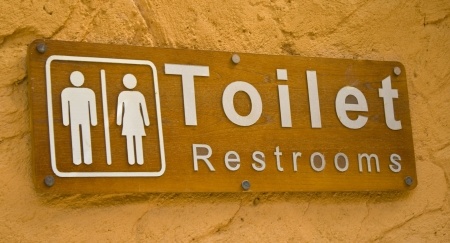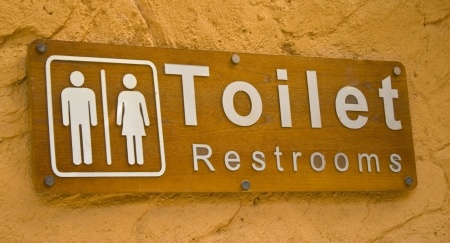 The first time I used a public restroom with my father, who had recently transitioned to a woman, was—quite frankly—unsettling. Not because I was afraid any crime would occur, rather, because for the first twenty-four years of my life, she (then he) had used the men's restroom. Walking arm-in-arm with her into the ladies room was a surreal experience for me. (Probably for her too.)
If any other women in the bathroom noticed, none of them commented. All of us gals went about our business of attending to nature's call, and my once-male-now-female parental unit felt secure. Imagine what it would have been like for her—a woman—to use the men's restroom? At best, there would have been looks, comments, and/or ridicule. At worst, she could have been in real danger.
Naturally, I rejoiced when Target issued a formal policy allowing patrons to select whichever bathroom and/or fitting room aligns with their gender identity. I feel it keeps our transgender community comfortable and safe, and I applaud Target for continuing to stand for equality, respect, and inclusivity.
But—let's be brutally honest—there are indeed crimes that happen in public restrooms. Some horrid ones. So I created my own list of rules to address those heinous acts.
Whether you sit or squat or straddle or stand in front of the toilet seat, clean up your pee. Wipe down the seat. Or the wall. Or wherever you sprayed. You are not a dog, and the bathroom is not your territory. Nobody wants to marinate in your urine.
Flush the goddamn toilet. Was your poop huge? A strange color? An usual shape? Take a picture and text it to your poop club. Then flush that shit down. The product of your bowels is not art. (Unless you created Donald Trump's face.)
Tell the next patron (or an attendant) if there is no toilet paper in the stall. Do not leave anyone hanging or begging someone else to spare a square. Jesus taught us better: treat others how you want to be treated. I'm certain he was talking about bathroom etiquette too.
Don't be a fucking slob. Handle your litter appropriately. Used sanitary products and diapers should be wrapped up and disposed of properly. Did you drop some toilet paper? Put it in the toilet. Dirty paper towels go in the garbage can. Not on the floor. Not by the sink. Not wetted down and then thrown at the wall. This is basic common courtesy.
Help a pooper out. Most of us don't like pooping or farting in a public bathroom. If you hear that happening, make some noise. Sing a song. Flush a toilet to help drown out another person's agony. (It's that Jesus thing again.)
For the love of all things holy (and sanitary), do not talk on your phone, eat food, do drugs, or have sex in a public restroom. Gross, disgusting, illegal, and BARF. Don't solicit sex either. (I'm looking at you, Republican senator.)
Wash your damn hands. Random fecal matter sprinkled around public places is the stuff of nightmares.
So there you have it: my list of atrocities we should actually be worried about when it comes to public restrooms. Follow the rules. Do your part. Teach your children to do the same. If there is a problem—any problem—in a bathroom, inform someone who can address it.
Now can we please stop focusing on other people's genitals? Well, unless it's for a good reason. *winks not at all subtly*
Photo Credit: linno1234 / 123RF Stock Photo
Follow Foxy Wine Pocket on Facebook and Twitter. You can also subscribe to my blog and never miss a new post. It's quick and easy! (That's what she said.)