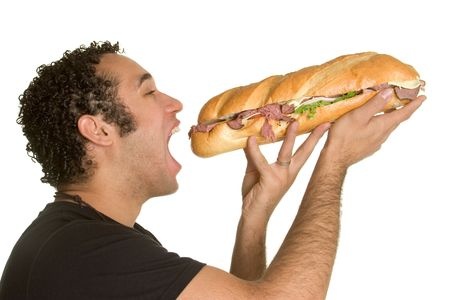 My husband and I battled for the first time over a sandwich. This argument happened over twenty years ago, and I still haven't quite forgiven him.
You see, I have food issues. Growing up in a family of eight, mealtime was a battlefield, and as the youngest, I was generally the loser. We kids fought for every piece of food and ate as quickly as possible to not go hungry. On the very rare occasions that my father bought fast food, he would buy three boxes of fries for the six of us. Spoiler Alert: The math never worked in my favor.
And another thing, I'm also picky. The seedy and watery residue from one tomato slice can ruin an entire burger. I'd rather cover my body in mayonnaise than eat one bite of it. I still have flashbacks from the time my parents threatened me with corporal punishment unless I ate a taco salad drowning in Catalina dressing. (I opted for the swat on the backside over choking down that sickly-sweet liquid horror.)
My husband witnessed the damage early in our dating years at lunch with some friends. When I got up to get more napkins, one of our friends reached over to take one of my fries. Mr. Foxy laughed hysterically as I nearly ripped off my friend's head with my verbal assault of vitriol and damnation—over a fucking French fry.
So my husband went into this relationship in denial completely aware. He knew my history. I came with clear handling instructions. Maybe he just needed more practice—because he clearly wasn't ready for The Epic Sandwich War of 1996.
The bloodshed happened a few months before we got married. We had traveled to Portland, Oregon for a job interview at a major manufacturing company. I was incredibly nervous about the interview.
I labored over my wardrobe choice. I debated how I should wear my hair, how much makeup I should apply, which pens made me look the most intellectual. I furiously read up on the company history and all their products. I needed to fake my way through sound like an expert.
I was a nervous wreck.
We flew in on a weekday morning. I hadn't slept much the prior night so I was exhausted. At the time, Portland International Airport was under heavy construction, and we got lost on the way to the rental car place.
I was then nervous, exhausted, and a bit irritated.
Once we secured our car, we proceeded to drive to our hotel on the opposite side of the city—a good 45 minutes and 4 freeways away.
My husband asked, "You want to stop for anything to eat?"
"No, let's just get to the hotel so I can do more interview prep." (In hindsight that decision was a colossal mistake.)
Naturally, we went the wrong way on one of the freeways and ended up going the opposite direction of our hotel. We "calmly" turned around and worked with our MapQuest printouts together. "We are a TEAM," I muttered through clenched teeth. We finally navigated through the confusing bridges and freeway system and managed to find our hotel after a couple of hours.
By that point, I was super hungry. Maybe a little hangry.
We noticed a deli near the hotel and decided to grab some sandwiches and drinks to bring with us to our hotel room. Although I was nervous, exhausted, irritable, and famished, I carefully placed my order: a turkey sandwich with extra pickles, peppers, and mustard. NO mayonnaise. NO tomatoes.
We checked in and went to our room. While I was using the facilities, my husband dumped the food on the coffee table prepared our meal. When I emerged from the bathroom, he was sitting in front of the television scarfing down one of the sandwiches. "Sorry I started without you. I was starving."
"No problem. I am too." I grabbed the other sandwich and sat down beside him. I took one bite, gagged, and spat out the food and the words, "WTF? This isn't my sandwich?!!"
"Whaa?" He swallowed. "Of course that's your sandwich. I'm eating mine."
I squinted my eyes. "What's in your sandwich?"
He lifted the bread. 'Turkey, pickles—"
"Is there any mayo on your sandwich?" I demanded.
He shrugged. "I don't know. Yes?"
"YOU DON'T KNOW? Open. It. Up." I performed a sandwich autopsy right then and there on the coffee table. "There's no mayo in 'your' sandwich! And THIS one, holding 'my' sandwich like it was a soiled diaper, has mayo ALL OVER IT!"
He dropped his food. "Oh my gawd, I'm so sorry."
Red fury coated my vision. "Sorry? Sorry?! You ate my fucking sandwich!"
He held out the remaining third of the sandwich he was eating, "Here. Eat this."
So then I was nervous, exhausted, irritated, hangry, and insulted. "THAT IS NOT ENOUGH SANDWICH FOR ME."
He pointed to the other sandwich. "Well, then eat mine."
Steam came out of my ears. "I CAN'T EAT ANYTHING WITH MAYO OR TOMATOES. HOW COULD YOU NOT NOTICE YOU WERE EATING MY FUCKING SANDWICH?!"
He shrugged. "I was hungry. I thought I grabbed mine. I'll go get you another one."
"No."I rolled my eyes. "I'll just scrape off all of this crap from your sandwich and try to choke it down."
He shook his head. "No. You're not going to be a sandwich martyr. Let me go get you another sandwich."
My face burned, and my hands were shaking. "I DON'T WANT A NEW SANDWICH. I WANT MY OLD SANDWICH."
"Oh my gawd. Take the rest of this one, and I'll go get you another." He wisely left the room.
I ate the remaining portion (and the next sandwich) and eventually calmed down enough to nail that job interview and get the job. We lived very happily in Portland for almost thirteen years. But I never trusted him with any sandwiches again. For many years after, I conducted mandatory sandwich inspections before anyone was allowed to take a bite of anything. No food entered his mouth until I gave explicit approval.
Several years after the sandwich bloodbath, we had children. Because of those kids, I'm not nearly as picky or possessive of food anymore. (Or maybe I just look good by comparison.) And I've mostly forgiven my husband. But I've not forgotten. No, I'll never forget. Whenever there is an injustice or a slight of any kind (not just food related), I mumble, "I can't believe you ate my fucking sandwich." Then I win. Always.
Photo Credit: keeweeboy / 123RF Stock Photo
Follow Foxy Wine Pocket on Facebook and Twitter. You can also subscribe to my blog and never miss a new post. It's quick and easy! (That's what she said.)