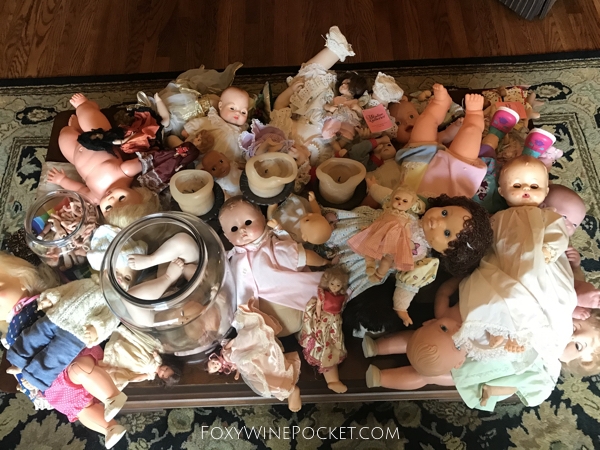 When government ineptitude first led to shelter-in-place, I figured I'd make the best of my time at home. I Kon-mari'd the fuck out of some closets and cabinets. I fixed a necklace (in two minutes) that had been broken for six years. I even filled out the baby books for my children (who are 17 and 14). Eventually, I ran out of projects and got tired of doom-scrolling and rage-tweeting. So I decided that a new hobby was the key to my pandemic paradise.
Now, I've been watching y'all. Not in a creepy way, I swear. But I've been judging reviewing what you're posting on Facebook and Instagram and the like. I know some of you are exercising more. Some of you are making sourdough bread with your own starter named Earl. Y'all are reading more, doing puzzles, and even learning new languages. Good for you.
I took my productivity in a positively Foxy direction: dolls. My new hobby began with "let's make a creepy Halloween decoration (that's what Mr. Foxy calls it, but we all know it will be up year-round)." But it got so much worse. SO. MUCH. WORSE.
It started innocently enough. I just wanted to re-create a horrific tree that someone had seen on the Internet last year, and because it involved dolls (and was a bit fucked-up), they immediately thought of me and sent me a picture. (I can't remember who you are, and you probably shouldn't reveal yourself at this point because Mr. Foxy may or may not hate you.)
So I purchased a fake tree and started scouring online auction sites for dolls—or doll parts—I wasn't picky. (Okay, when I say it that way, it sounds a little off-kilter.) Anyhow, I found this one auction that had the perfect number of dolls and other crazy shit. Naturally, I bid on it.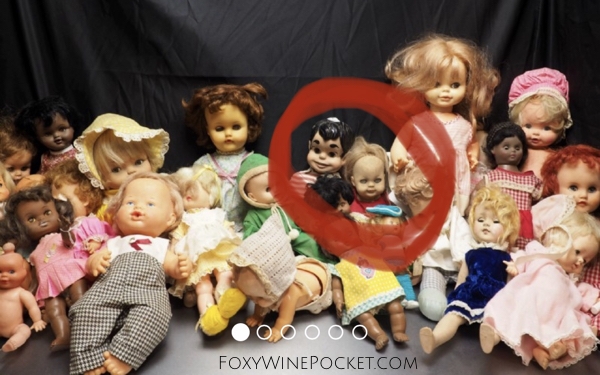 But, fuck. I wasn't watching the auction carefully enough. Maybe I got distracted by the impending apocalypse or the flaming dumpster fire that is our country right now. Whatever the reason, while I wasn't paying attention, I was outbid by two dollars. Two measly dollars! I would have paid at least fifty twenty (seriously, one hundred, but don't tell Mr. Foxy) more for that freak show.
I. Was. Devastated. Fetal-position devastated. I-can't-look-at-that-picture-without-crying devastated. I've-been-trapped-in-my-house-with-two-teenagers-for-several-months devastated.
When I finally pulled myself back together, I dove head-first back into the auction site. My grief at losing the first auction made me blind to what I was bidding on—I just wanted dolls. My grief led me to bid on so many new ones—trying to reclaim what I felt was rightfully mine. My grief made me want ALL THE DOLLS within my reach. (Just don't ask me how much they all cost.)
When the bidding ended, the packages started to arrive. Like, a lot of them. Every day Mr. Foxy would dread coming up from the basement (that's where he works, not where I imprison him) because he said he knew that "fresh horrors" awaited him. (He has an unsophisticated palate.)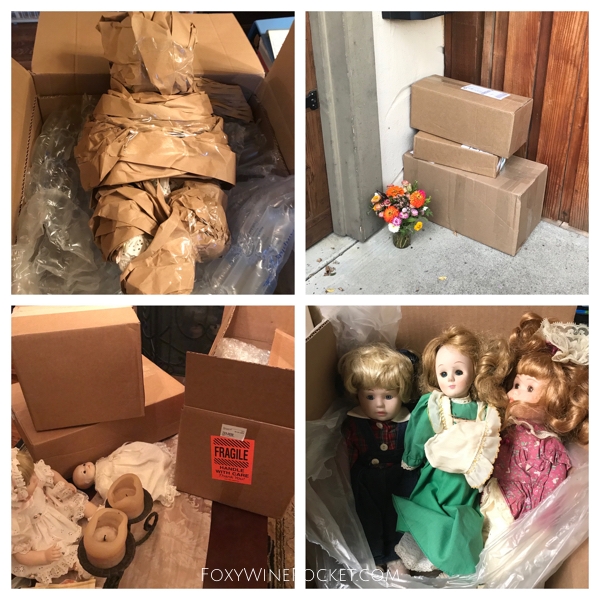 Once I received and dismembered all the dolls I'd "won," I realized I hadn't planned properly. Some of the dolls were too small for my doll tree. Some of them were porcelain and thus too heavy. This one … well, I just fell in love with her and her "fuck everything" attitude. I couldn't imagine harming her in any way. I carry her around with me everyday, even to bed. Okay, I don't really, but now I feel like I should.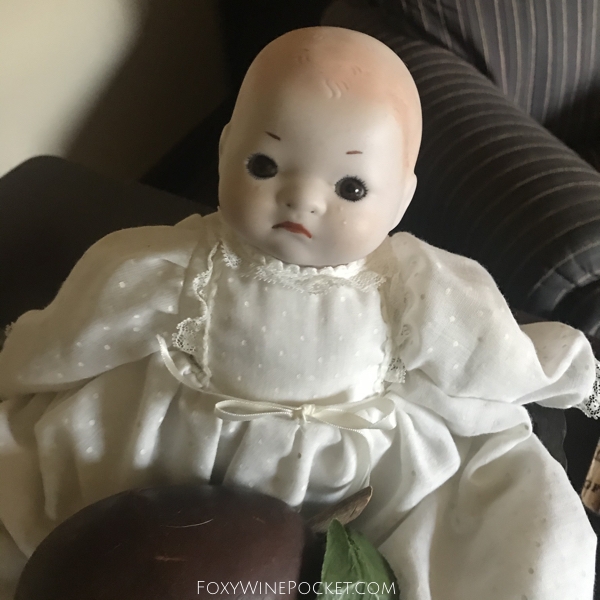 It was obvious I didn't have enough "appropriate" doll parts for my project. This was a HUGE problem. Apparently not everyone in the house agreed. Though Mr. Foxy was ready to throttle me, I needed to bid on more dolls, right? I mean, I HAD TO. I had a dream to fulfill. So, I placed more bids. On more auctions. Maybe even a few more. Dear gawd, maybe too many, but LOOK! All my auction "wins" enabled me to complete the perfect Doll Limb Tree.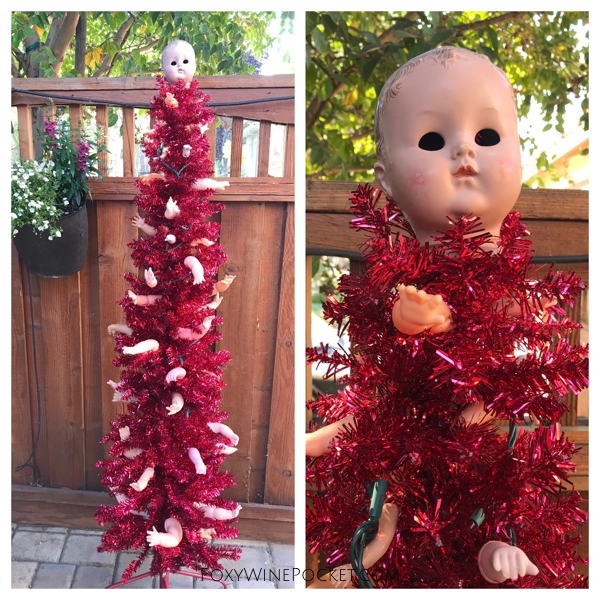 At night her eyes glow red and everything. But now that I'm looking at her here, I think she needs more arms. Don't ya agree? Of course you do. You're Doll Limb Tree aficionados too.
After I completed my glorious tree, I realized I had a new problem. Before the tree was complete, I didn't have enough doll arms. After the tree was complete, I had a shit-ton of other leftover doll parts. Legs, heads, torsos, too-small arms, too-small legs, too-small heads, and tiny torsos. Also, a fuck-ton of doll clothes.
Despite Mr. Foxy urging me to "BURN THEM ALL" in a funeral pyre, I decided to get innovative. I found a way to display all many a few of the extra legs, all the little leftover heads, and the big leftover heads. Okay, FINE, just a small portion of the big leftover heads. Who knew I'd have so much head? (That's what she said.)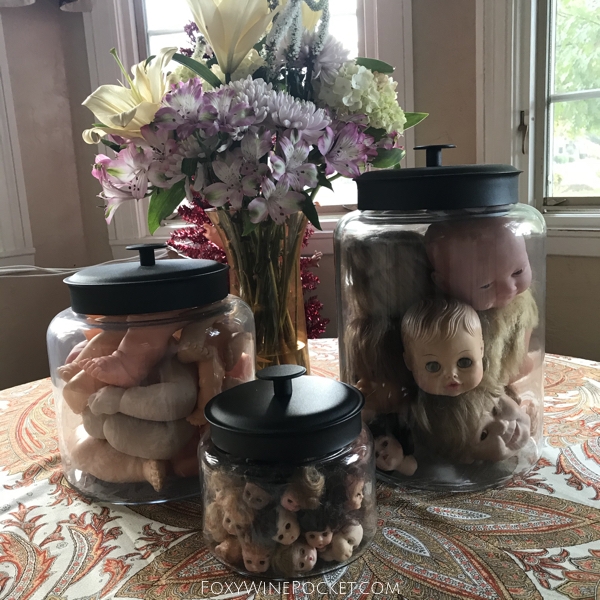 Honestly, though? Putting doll parts in jars seemed too easy, too amateurish. I needed to get more drunk ingenious. "What about another tree?" (Yes, I was talking to myself at this point in the pandemic.) "Maybe smaller? Perhaps using up the smaller leftover doll limbs? Gawd-damn, you're on fire!"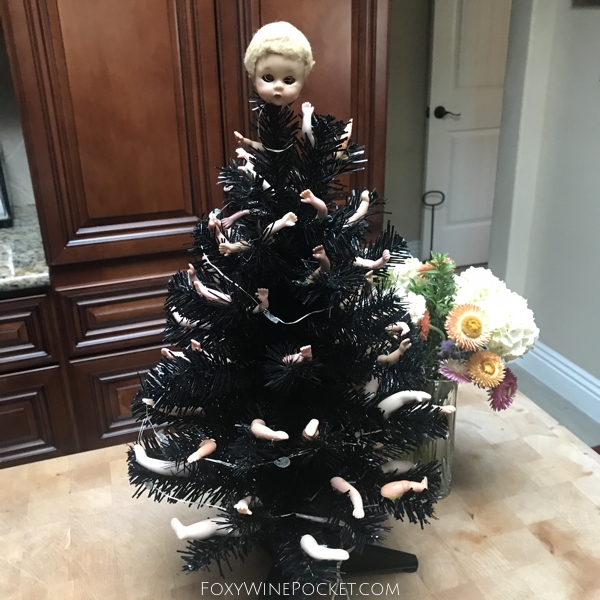 I then realized that some of the dolls in my family had removable eyes. After hacking them out and leaving them all over the house for Mr. Foxy to find, I devised a plan for the heads—MOOD LIGHTING!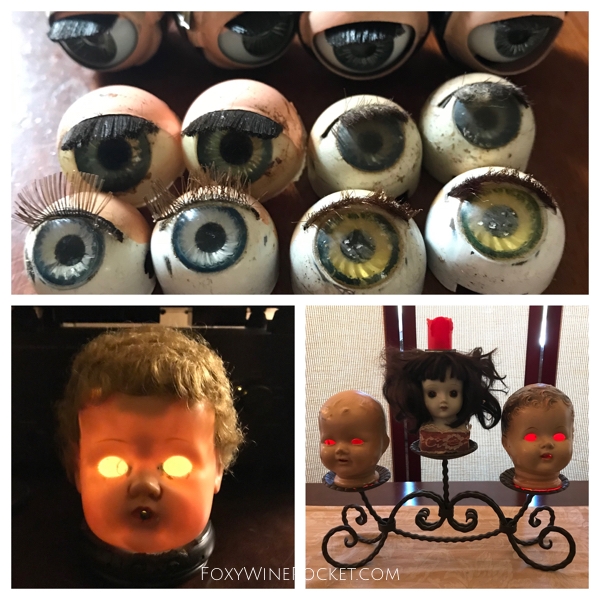 Even after these extraordinary showpieces, I didn't feel like I was pushing myself quite hard enough. I mean, the first tree was a recreation of something someone had sent me from the Internet. The other projects didn't require that much in the way of talent or creativity. I needed to flex my artistic muscles more. I needed to reach for greatness.
The vision came to me in the middle of drinking the night. A creation so bold and breathtaking it belonged at the Louvre. It was as if DaVinci's ghost had swaddled me in a fresco. Enshrouded me in canvas. Bathed me in his essence.
Okay, FINE. I found another picture on the Internet.
Unfortunately for my attention-span but fortunately for my attempt to pass the mind-numbing abyss of pandemic time, this project required me to put forth some actual effort. I scoured my house and garage for supplies, but couldn't find anything appropriate for the foundation of the art piece. I scrolled through page after page on amazon.com and auction sites to no avail. Finally, in my local Buy Nothing Facebook group, a generous neighbor was offering up a shelf-set that would provide the framework for this art installation. (I'm going to go out on a limb and say she had no idea I would pervert her gift in this fashion.) The shelving was a bit small, perhaps, but I would make it work.
Next, I removed the frame from a gawd-awful clown painting Aunt Ramona forced on gifted me years back. (Don't worry, fam, the painting is still in-tact and ready to be moved to your house ANYTIME.) I spent a ridiculous amount of time and many failed efforts trying to figure out how to attach the shelves to the frame so as to preserve the frame's beauty. Turns out, all I needed was a couple of screws. (That's also what she said.)
I meticulously prepared the doll parts. My neighbors stared curiously at me as I scraped doll faces and arms and feet along my concrete driveway. I spent hours, nay days, arranging and rearranging the sculpture. I molded. I hot-glued. I contorted doll parts in ungodly ways. I was the potter, and the dolls were my clay. Mr. Foxy pretended not to notice perfection in the making, but he slipped up when he suggested I add some lighting. (Come on, you know you love my girls, Mr. Foxy.)
Finally, the day came for my big unveiling. Only the dogs attended, but even they knew they were witnessing an historic moment in time. Behold…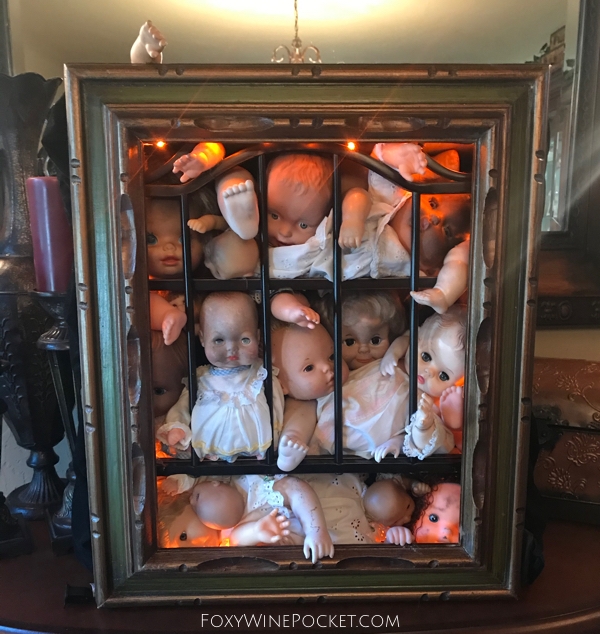 I just took your breath away, didn't I? I know. I get it. I could stare at this masterpiece for hours each day. Sometimes I do. I move my chair around the room to admire it from various angles. To decipher the layers of complexity. To bask in my immeasurable artistry.
But you guys, I still have so many more dolls and doll parts. So. Many. More. Which officially makes Up-cycled Doll Art my new pandemic hobby. Mr. Foxy strongly objects to this notion, but I wonder if he'll change his mind when I start adding blood.
Follow Foxy Wine Pocket on Facebook and Twitter. You can also subscribe to my blog and never miss a new post. It's quick and easy! (That's what she said.)