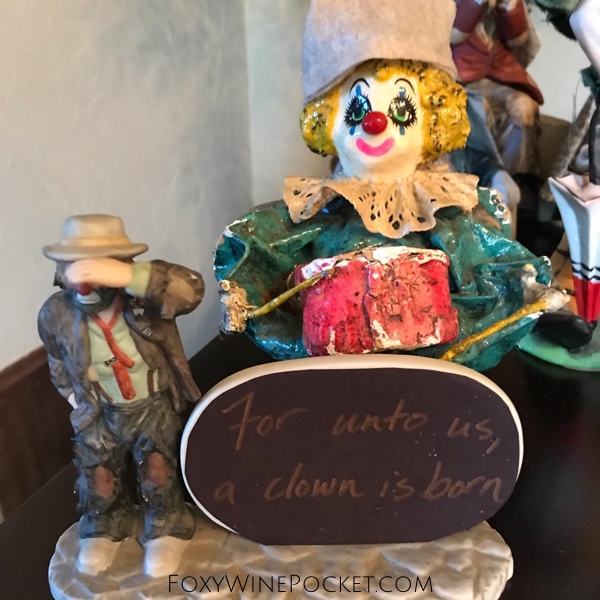 No, Mr. Foxy, the answer is not "Throw it into the 2020 dumpster fire!" STOP SUGGESTING THAT.
As you may recall, earlier this year, I wrote about my Clown Nativity set. Or maybe you purged that story from your brain. Seriously though, compared to some of my other whacked-out projects, the Clown Nativity set is pretty benign. In fact, I think it's awesome. But, because the pandemic is making me do crazy shit, I wanted to make it even more awesome-er.
Christmas is right around the corner. (It is right? I know sure what month it is anymore.) As I lovingly gazed at my holy clowns, something just didn't sit right with me.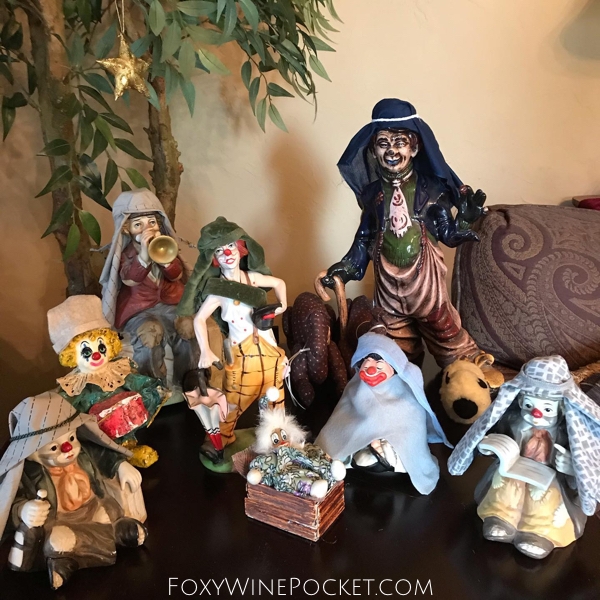 The clowns seemed somehow vulnerable and exposed. Someone (*cough, cough* Mr. Foxy) might try to murder one of them by pushing them off the edge of the end table. Also, there wasn't enough room for my wine glass, but I swear that wasn't my primary motivation. Really and truly, I just wanted to keep my clown babies safe.
So, I built a barn for my Clown Nativity set.
I'm not gonna lie—this project was longer and harder than I thought it would be. After having wasted spent invested all that money on my beautiful baby dolls, I knew Mr. Foxy would be pissed if I spent any money on this project. So I contacted one my neighbors who had a huge pile of good, hard wood. Materials acquired.
Then came the construction. I mean, I'm crafty and shit, but my carpentry skills are seriously lacking. (Jesus would not approve. Or maybe he would because it's a nativity set? hashtag meta) I found some sort of electric saw and just started hacking at the wood. I had a basic idea of what I wanted, and I was letting the spirit of the clowns move me. I ended up with wood in multiple sizes and shapes.
For the assembly, I started out pounding the wood, but that didn't work out so well because we don't have a worktable or clamps or anything like that. Also, I didn't know what the hell I was doing. Then, after far too much time handling the wood, I realized that—once again—screwing was the best option. Only, I couldn't do that alone. So I dragged Mr. Foxy out to the garage so he could screw with me. Basically, I held the wood while he screwed.
After we finished together, I spent the afternoon playing with the wood by myself—adding a decorative roof and a back wall and flooring and a star and some fairy lights. I also burned myself multiple times in the process, to which Mr. Foxy insisted was sign that this project was too fucked-up even by Foxy standards. But I just ignored him. And aren't you glad I did? Because, BEHOLD, my even more awesome-er, and not at all fucked up, Clown Nativity set!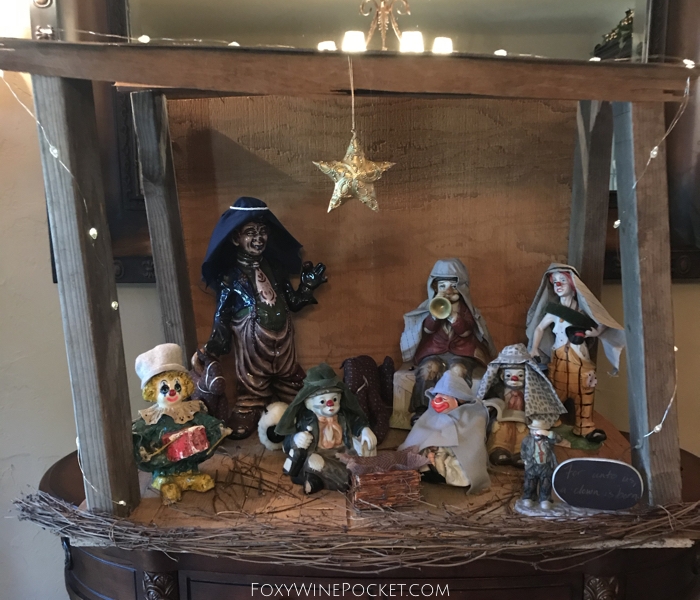 The Nativity set even has some thatchy, twiggy decor along the bottom front of the barn. Nooo, I didn't spend two whole days taking apart an old wreath and then soaking the twigs in water overnight and then tying them to a straight pipe and then drying them out until the next day. YOU did.
Now my clowns are all secure, and I don't have to worry about their safety. I think they're even happier now, too. They're still smiling and boozing and making music. And Mary is still the most happy mother known to clownkind. Just look at her face: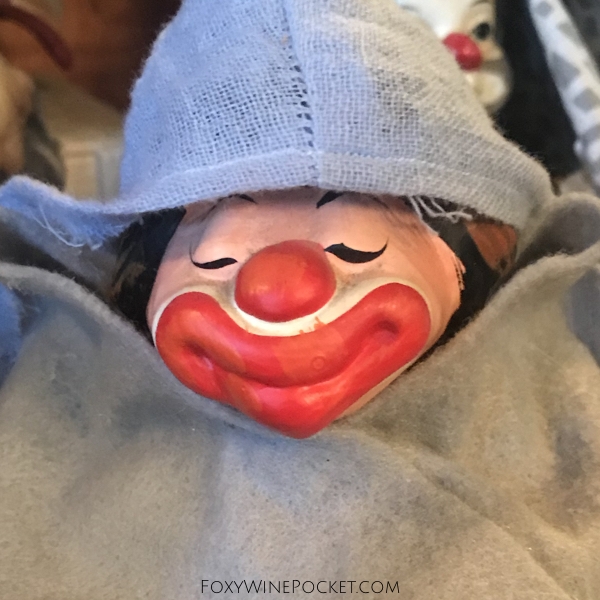 Because Christmas and pandemics and shit.
Follow Foxy Wine Pocket on Facebook and Twitter. You can also subscribe to my blog and never miss a new post. It's quick and easy! (That's what she said.)