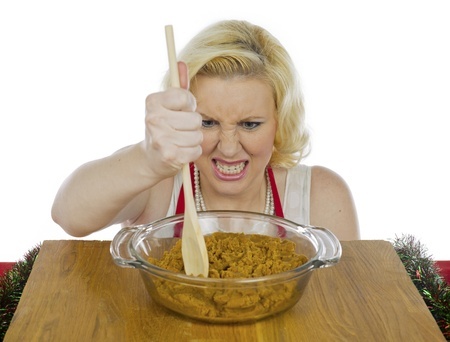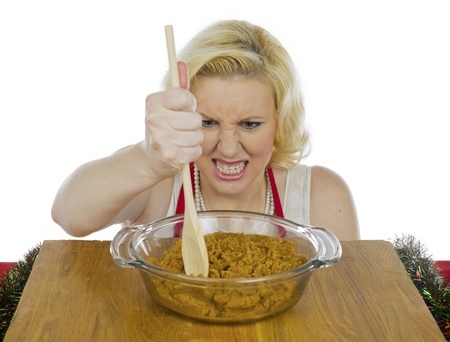 There's nothing quite so orgasmic as inserting a freshly-baked homemade cookie into my mouth. My tongue delicately caresses the firm exterior. My teeth gently penetrate the crispy butter-and-brown-sugar magic shell until the confection yields to the pressure and releases its warm, oozing delights inside of me. I moan and lick my lips with intense satisfaction.
But the moment you introduce a raisin into that delectable treat? Well, you might as well have served the cookie in a used maxi pad sandwich. Because you just turned it into crap.
Raisins have no place in baked goods. NONE. I don't want them in my cookies or my breads or my sticky buns. (Or my non-sticky buns, for that matter.)
You can't mask raisins with sugar and cinnamon either. They are foul and mushy—like tiny assholes in the middle of your treat. They add a distracting sweetness—like a horrible infection. As my talented, smart, beautiful friend Brooke once told me, they are "dried fruit testicles."
YEP. AND THEY DON'T BELONG IN BAKED GOODS.
"But Foxy," you say, "what about other dried fruits? Dried cranberries are delicious in scones."
NO. No, they are not. Fresh blueberries are delicious in scones. But cranberries? Well cranberries aren't delicious … anywhere. In fact, unless you have a raging urinary tract infection or vodka and a lime, I don't know why you're consuming anything cranberry-related—especially when shriveled up like a miniature ball sac.
Don't get me wrong; I do like raisins and other dried fruit. Just not in my baked goods. I sprinkle them on my morning cottage cheese and fresh fruit. They add a lovely sweetness and chewiness to my chopped veggie salads. I delight in their contrasting flavor in a delicate curry dish.
But, dear god, please don't bake with them.
Exception: My friend PJ makes the most delicious dried-cherry-white-chocolate-chip-oatmeal cookies. They are especially yummy during Cards Against Humanity. (Don't toss them like Bobbie did though.)
As long as I'm throwing down the gauntlet on food faux pas, let's talk about nuts. I love nuts. (That's what she said.) I eat a handful every day. (That's also what she said.) I slather them with hot bacon juice and serve them as appetizers.
But they don't belong in baked goods either. Not in my cookies. Not in my sweet loaf breads. (Does anyone else think of horrible things when they hear the word loaf?) Not in my brownies. Or bread puddings. Or scones. Or doughnuts. Or fudge.
FINE. Technically fudge is a candy, but it comes on the Christmas cookie tray so I'm including it in my rant. Nothing foreign belongs in fudge. It's fudge. Leave it be. But especially don't fuck it up with walnuts.
In fact, walnuts are very much like cranberries. That is to say, they're shitty. But, unlike cranberries, I can't find one good application for them. And they have an unpleasant texture. And the skin gets all stuck in your teeth like an irritating mouth wedgy. WHY DO YOU EVEN EXIST, WALNUTS?
Here are acceptable additions to baked goods: chocolate chips (mmmm, hot chocolately slurry), toffee, caramel, peanut butter, oatmeal, fresh fruit (and only in certain recipes), and bacon (DON'T ARGUE WITH ME).
Exception: I do enjoy a smattering of sliced almonds on top of my double-baked almond croissants. But only if they're from a real French bakery. None of these grocery store croissants.
And, although Nutella is made from nuts, it's smooth and creamy and tastes exactly like angel jism. (Or so I imagine.) So it's allowed on every single baked good you can name.
Of course, all this being said, after a few glasses of wine, I'll eat anything. And that is most definitely what she said.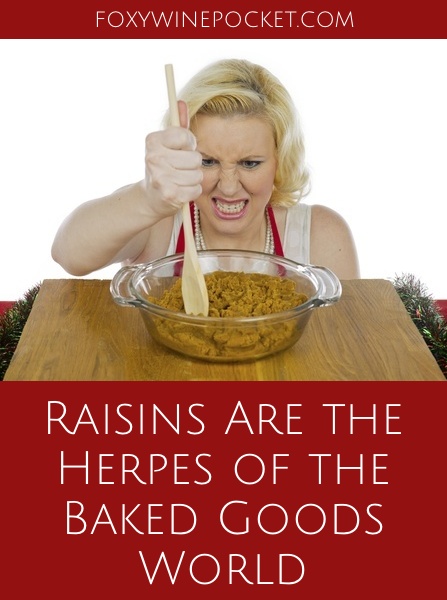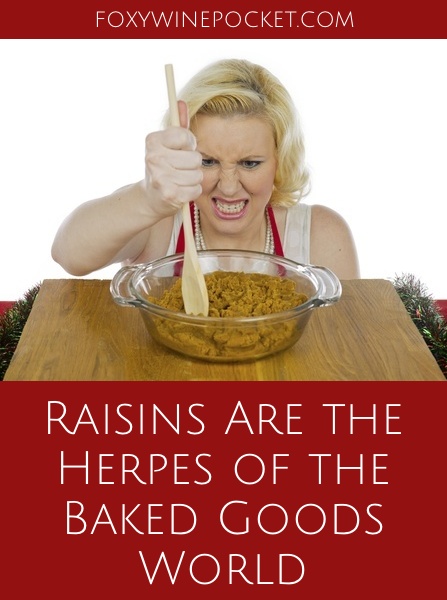 Photo Credit: kozzi / 123RF Stock Photo
Follow Foxy Wine Pocket on Facebook and Twitter. You can also subscribe to my blog and never miss a new post. It's quick and easy! (That's what she said.)