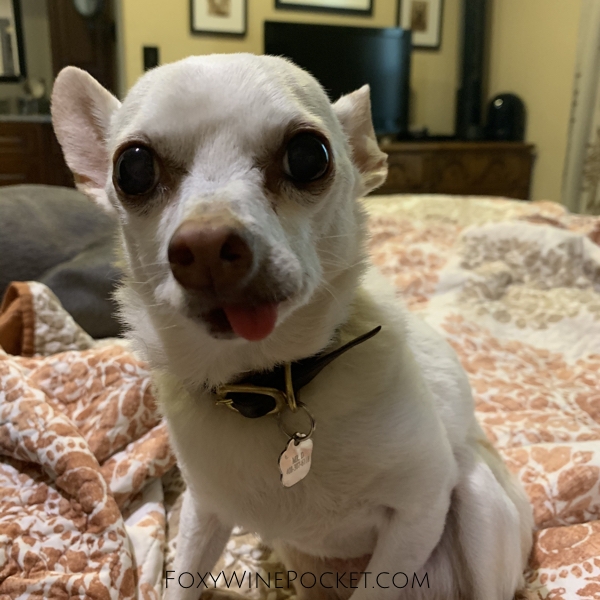 Mr. Foxy and I have a looong history with rescue animals. When we met, I had a rat, and he had a bunny. After we started dating, he added a kitten (because he's allergic to dogs), and not to be outdone, I adopted a cat of my own. Then, after we moved in together got married, we found an abandoned kitty in the parking lot of Chili's restaurant so (obviously) we instantly had a third cat (named Chili, of course). Somewhere along the line, the bunny moved to a farm, and the rat died. (RIP, Buttercup.)
Then, a couple of years later, we stupidly added a fourth cat. (He was the devil.) And a few years after that, a dog (because Mr. Foxy decided he wasn't going to be allergic to them anymore). A year after that, a second dog.
If you're keeping tally, you will note that at the height of our insanity, we had four cats and two dogs. At the same time. So what did we do after that?
We immediately started having children. Naturally.
The first decade of the new millennium is a smelly blur of morning sickness, cat puke, sleep deprivation, dirty litter boxes, undiagnosed post-partum anxiety, diapers, crying babies, and barking dogs. (I'm fine now, I tell you. FINE. Totally fine. 100%) There were good moments too; I have the pictures of prove it (to myself).
Uhhh, Foxy? I thought you said this post was about murder hornets.
Patience, young grasshopper, I'm getting there.
Fast-forward to today, we currently have zero cats (seventeen years of litter boxes were quite enough for me, thankyouverymuch) and a menagerie of rescue dogs. Three to be exact. It's probably a good thing that three dogs is the legal limit in our city, or we'd have at least five more. (We love dogs.)
Mimi is the red-nose pittie. We adopted her eight years ago, the day before she was scheduled to be euthanized for kennel stress. Sweetest dog ever (and a total bed hog), she has converted a lot of non-pitbull-loving people.
Scooter is the blue-nose dwarf pittie with the tongue out; you might recognize him from Instagram. He has a fuck-ton of birth defects and could barely walk when we adopted him as a puppy three years ago. But he is the sweetest meatloaf ever (with horrendous breath).
Mr. D is the little chi-dog on the right. He's an asshole.
Seriously, Mr. D is a senior Chihuahua (or a Bolivian jungle rat—we're not sure) we adopted almost two years ago when his foster home burned down in the Camp wildfires. He's repaid us by being a total dick to everyone and bossing around the other dogs. Okay, he's not actually a dick to me. He loves me. Like thinks-I'm-a-goddess loves me. Follows me everywhere and showers me with affection. Howls when I'm behind a closed door. I call him Pikachu—because he's essentially my Pokémon. But he hates everyone else. Well, unless I'm not around; then he's a total gigolo.
Asshole, I tell you. A total asshole.
No Foxy, seriously. Where are the fucking murder hornets?
We're almost there. For realz.
Soooo pandemic-induced shelter-in-place has led to boredom, anxiety cleaning, and new hobbies. My daughter is into art. I've taken to crying in the fetal position. My son has taken to photographing the dogs (he took that fabulous one above). And Mr. Foxy has taken to, well, a lot of things. Some expensive things. But, fortunately, some very funny, creative things.
And with that introduction, I present to you, The Murder Hornets…
Here's the track list for the album:
I Poop Where I Want
You're Going Too Slow (Prepping My Meal)
*You* Move Over, I'm Comfortable
Stuck in the Jungle
I Guess I Live Here Now
You Forgot About Me Again
I *FIT*
You Gonna Eat That?
Oh! Hot Lunch!
Gawddammit, Foxy. Those aren't real murder hornets; it's a fictitious band. I mean, they're seriously fucking cute, but … Murder. Hornets. Now.
FINE. Here's your fucking murder hornet.
Clearly, y'all are gonna wanna pin this shit. For sure.
Follow Foxy Wine Pocket on Facebook and Twitter. You can also subscribe to my blog and never miss a new post. It's quick and easy! (That's what she said.)