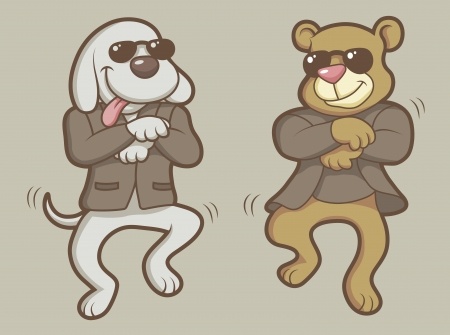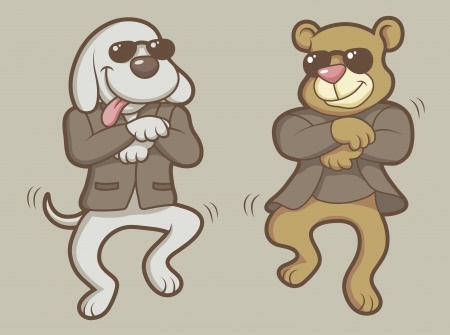 Sometimes out of nowhere, a song latches on to your brain, slithers through the gyri, and won't leave until you stick an icepick in your ear.
Actually, that happens to me quite frequently. Commercial jingles and 70s sitcom theme songs surprise and "delight" me by their random appearances in my head. (Unless it's Friday. I hate that shit.)
Naturally I feel obliged to infect entertain everyone around me by sharing those songs.
Loudly.
A few nights ago, Mr. Foxy and I were sitting on the couch watching television. (Surprisingly I hadn't fallen asleep even though it had been dark for a couple of hours.) And our adorable dog was curled up between us.
I burst into song. "She's a happy dog, a happy dog. Hubba, hubba, hubba, hubba."
My husband, who is usually unfazed by my shenanigans and ridiculousness, eyed me with a furrowed brow. "Uh, what the fuck are you singing?"
"A song from our childhood. Don't you remember it?" (We're about the same age. Actually he's twenty months older than I, and for eight months out of the year, I get to say he's two years older. But who's counting?)
He shook his head. "No. I've never heard that song."
"Really? 'She's a happy dog? A happy dog? Hubba, hubba, hubba, hubba?' You never heard it?" I eyed him doubtfully.
His face contorted like he had eaten a bad shrimp. "Hubba, hubba, hubba, hubba? NO."
I took a gulp sip of my vodka-tonic. "Huh. I wonder where I heard it then."
Because my husband is a Google Search Ninja like me, he located the song in the time it took me to trip up the stairs to our bedroom. "Is this it?" he asked as he walked into the bedroom behind me.
I clapped furiously! "YES! That's it!"
I was walkin' down the street on a sunny day
Hubba hubba hubba hubba hubba
A feeling in my bones that I'll have my way
Hubba hubba hubba hubba hubba
Well I'm a happy boy (happy boy)
Well I'm a happy boy (happy boy)
Then I grabbed his phone and started singing again and dancing a jig. "I'm a happy boy. Happy boy! I'm a happy boy! Happy boy!"
I continued dancing while I brushed my teeth with his phone in my other hand. The buzz of the toothbrush drowned out the song, but it couldn't stop my body from moving. (The vodka had nothing to do with it. NOTHING.)
Mr. Foxy scowled and blurted, "Uh, can I have my phone back now?"
"NO! I'M DANCING!" Toothpaste splattered across the mirror. (Performance art at it's finest!)
He wouldn't relent. "Seriously. I'm done with this song."
But I was more stubborn. "No way! I want to hear it again. It's so happy."
He eyed me suspiciously. "Have you actually listened to the lyrics?"
"Of course. He's a happy boy! Hubba, hubba, hubba, hubba!" (I used jazz hands, people. JAZZ HANDS.)
His voice became forceful. "No. You need to listen to the second verse." He grabbed his phone and played it for me again.
This time I stopped dancing and actually listened, mouth agape. "Oh dear god. What have I been dancing to?"
My little dog spot got hit by a car
Hubba hubba hubba hubba hubba
Put his guts in a box and put him in a drawer
Hubba hubba hubba hubba hubba
He smiled an annoying I-told-you-so smile. "I told you. It's horrible."
I couldn't disagree. "It is SO horrible. He's a happy boy with his dead dog's guts in his dresser drawer? That is so terrible. So incredibly disgusting … I. LOVE. IT."
After another five seconds of Google ninja'ing, Mr. Foxy said, "That song was made famous on the Dr. Demento show—I know it was a favorite of yours. That's probably where you heard it. In fact, I think we have traced everything wrong about you back to that show."
Mr. Foxy fell asleep that night as I sang him a lullaby. One of my other favorite songs from the Dr. Demento show, Dead Puppies.
He woke up singing the lyrics.
So, my work is here done.
Photo Credit: cundrawan703 / 123RF Stock Photo
Follow Foxy Wine Pocket on Facebook and Twitter. You can also subscribe to my blog and never miss a new post. It's quick and easy! (That's what she said.)