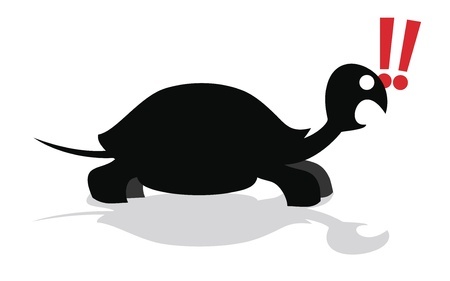 If you've been around here long, you know I love to write about my 9-year-old son Colin. He's fabulous: very clever and extremely sweet. It takes a lot to phase him. He's also a little unusual. A bit quirky. But he tells it like it is. We have some of the most hilarious conversations. (When he's not embarrassing me in public.) This is another one of those conversations.
The other day we were getting ready to leave the house, and I needed to take the dog out to go potty.
Me: *whistles at dog*
Dog: *lifts head, tells me "Fuck you" with her eyes, lowers head*
Colin: I don't think she wants to go out.
Me: Well, she has to. We're about to leave. She'll be very sorry if she doesn't go out now when a turtle head is poking out later.
Colin: Huh?
Me: She's gonna have a turtle head poking out later.
Colin: What are you talking about?
Me: You've never heard "turtle head poking out"?
Colin: No.
Time stopped. How could my son not know what that expression meant? Had I failed as a mom? I had to rectify the situation. (Yes, I totally chose "rectify" because it reminds me of the word "rectum.")
Me: Well, you know when you have to poop really badly that it feels like a little bit is coming out of your butt?
Colin: Yeah …
Me: That's like a turtle head poking out of its shell.
Colin: WHAT?
Me: You know? Poop poking out of your butt? Turtle head poking out of its shell? Same thing.
Colin: I don't get it… That must be an idiom.
I tried. I really did. He still doesn't get it, but at least he knows it's an idiom, right?
P.S. We may refer to him as Sheldon from time to time.
Photo Credit: ratoca / 123RF Stock Photo
Follow Foxy Wine Pocket on Facebook and Twitter. You can also subscribe to my blog and never miss a new post. It's quick and easy! (That's what she said.)